Locations: 
"Greater KC: River Market" South wall of Plexpod, corner of Independence Ave & Delaware St. KCMO
"Greater KC: Lenexa" East wall of Plexpod 10000 Marshall Dr. Lenexa KS 66215
Both murals appear along I-35 highway and can be seen by locals, commuters and travelers alike. Each mural has a sense of organic flow contrasting with technology, combined with images of people and local landscape features. The color scheme blends our favorite teams, the Chiefs and Royals, while the "KC" logo and hidden hearts display our hometown pride and showcases the KC Chamber of Commerce.
The River Market mural has a vertical layout that exemplifies movement, depicting the bustling downtown, newly erected buildings, and upward growth of a city. The illustrated images depict commuting people, daily hustle, denizens of the street and vibe of the urban core.
The Lenexa mural depicts a serene Kansas landscape featuring sunflowers, wheat and agriculture combined with how people, technology and commerce interact with it. The horizontal layout of the Lenexa location lent itself perfectly to the landscape of Kansas and helped to embody the feeling of the Great Plains.
Kansas City, Missouri Plexpod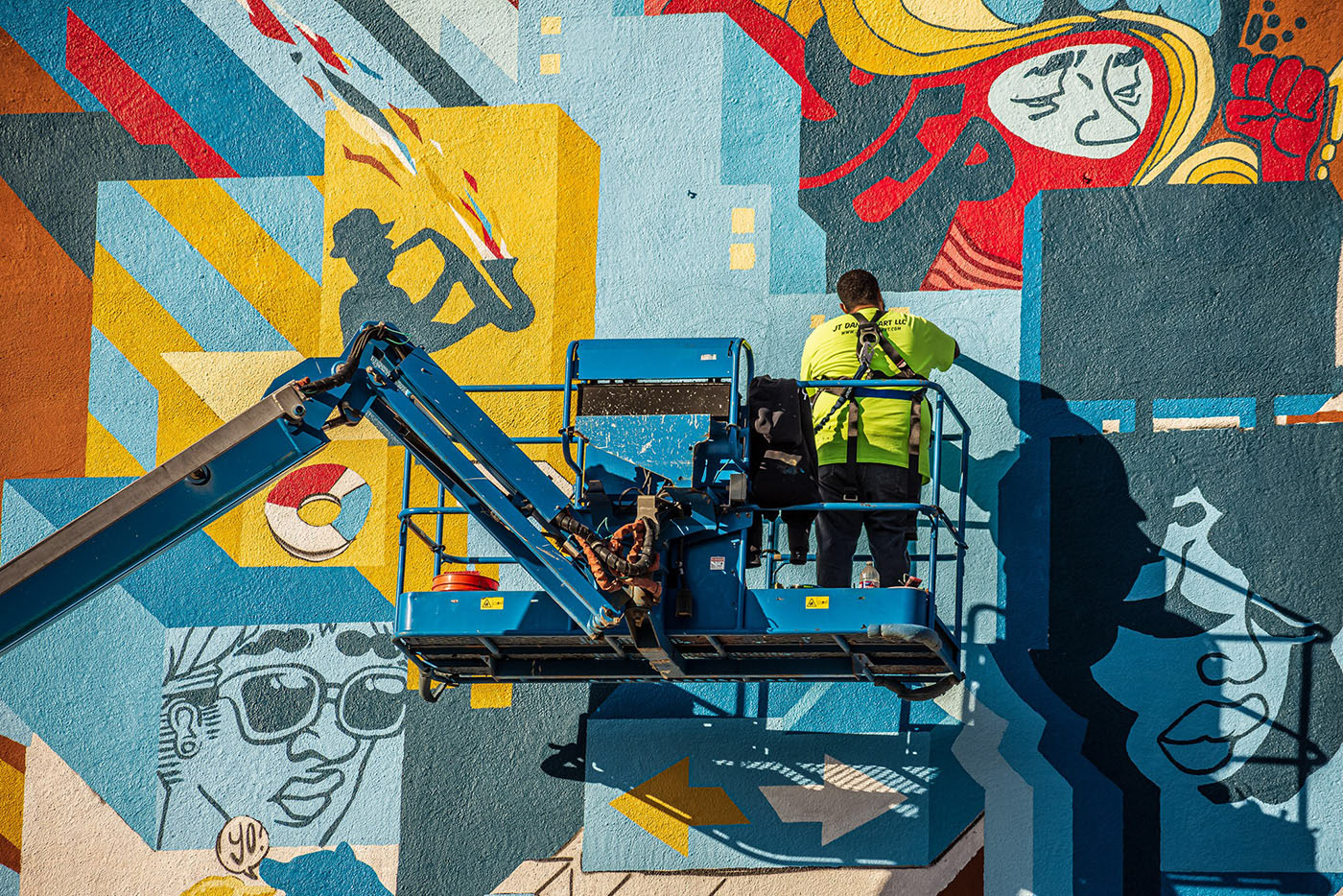 Take a closer look at both murals to find:
• SUP = Surviving Under Pressure
• YEP = Young Empowered People
• River: what divides the states but also connects us
• Hexagons: represents bio/agriculture
• Conveyer belt: shipping, receiving & distribution
• Characters depicting our diverse population in KC metro area
• Pixelated pieces: tech industry + creative + design in KC
• Pie chart: represents stats, bookkeeping, segments of society
• Buildings: housing + new business + city growth
• Missouri state flag bears
• Handshake: bringing us together
• Airplane: represents Midwest as a launching pad to the rest of the world & how we're all connected
• Paper airplane: represents imagination & ingenuity
• Train: freight hub in KC + transportation
• Saxophone player silhouette: reference to jazz history/Charlie Parker and roots in KC
• Kansas elements: sunflower, wheat, grain silos & wind energy
• KC logos & hidden hearts
A Thank You from the Artists
We really appreciate being given the opportunity to articulate our art styles freely, which allowed us to create a statement piece on two highly visible walls. This collaborative process has allowed art to have a front and center showcase within our city areas of commerce. A thank you to our team, Holly Hayden, John Raux, Ben & Mike of Evolution Sign and Mural for the painting assistance. A special thanks to Gerald Smith, the Plexpod Team, KC Chamber of Commerce and Trozzolo Communications for making this project possible.