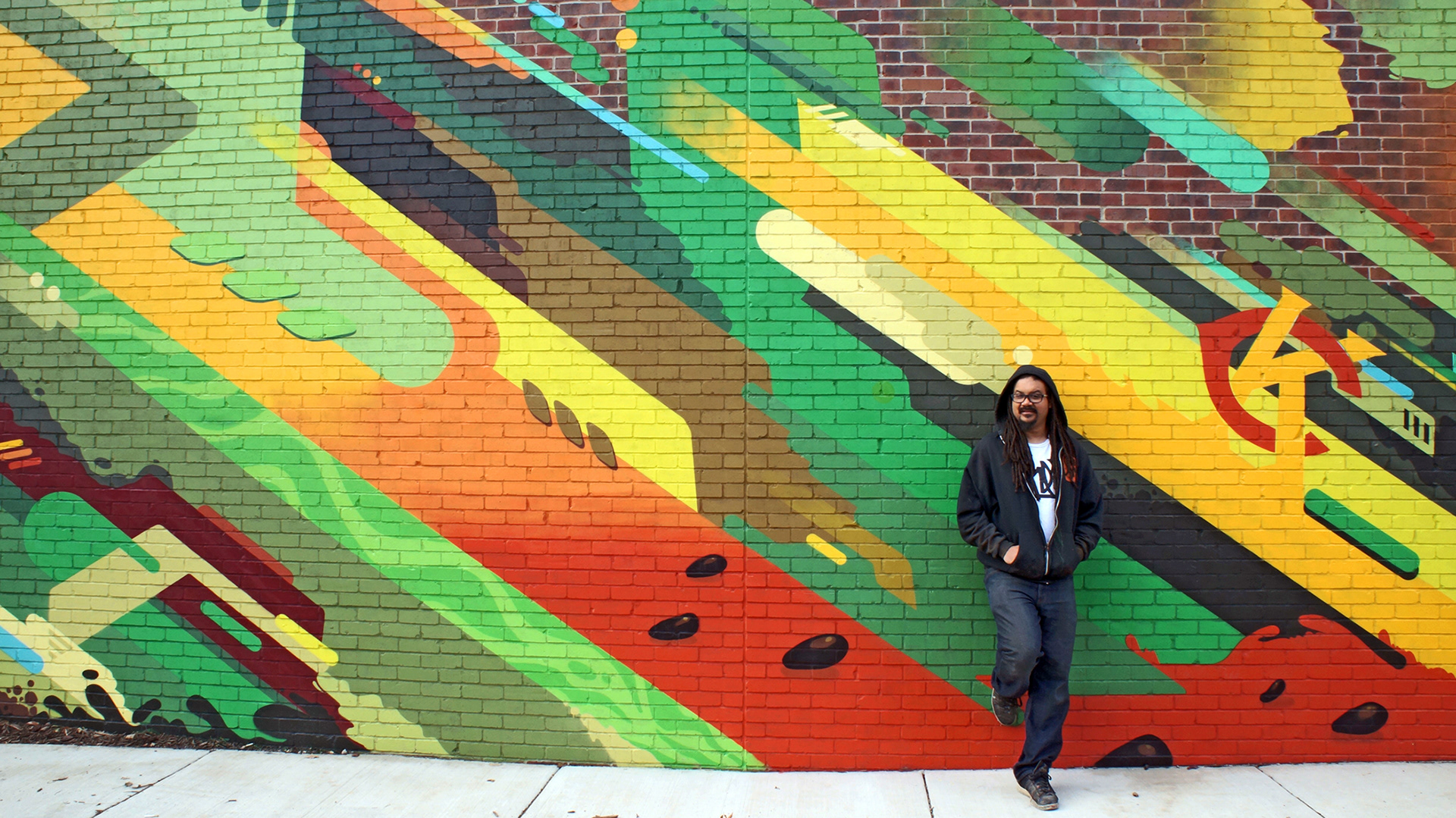 I am Phil "Sike Style" Shafer. I am the product of mixed cultures. My father is white and my mother is black. Being bi-racial, my blended ethnicity gives me a unique perspective on society and art. Spending the first 10 years of my life in Brooklyn during the 80's sparked my interest in graffiti and hip-hop street culture, both of which are heavy influences on my art. After graduating from the Kansas City Art Institute, I began the design journey from photographs to wheat pastes to creating the Sikecomics Clothing line. For the past 17 years, I have run my own art business, Sike Style Industries, while working full-time as a designer for University of Kansas Medical Center. As my art career and practice has evolved, my love for street art, graffiti and design has led me to work as a muralist. 

I now combine digital design, collage, spray paint and stencils to create images that range from abstract geometric patterns to representational storytelling to text that relates to civil rights, racial and cultural identity. What started with a small outdoor painting in my own neighborhood has led to larger custom commissions and opportunities to collaborate with corporate clients and arts organizations. 

Public art is important to me because it allows me to give back to the community through my talents. My goal is to transform bland or vandalized surfaces into murals that uplift and inspire the neighborhood residents. Whether is through the use of Maya Angelou quote painted on bricks or abstract shapes of color sprayed on a doorway, the idea that public art can change a space and help people feel pride in their surroundings is important to me.
Clients & Collaborators include:
8183 Studio

,
Abbott Properties
,
AIGA KC,
American Jazz Museum
,
Antioch Middle School,
ArtsKC, Avila University,
Berkeley Riverfront, Boulevard Brewing Company, Blip Coffee Roasters, The Bunker, Centric, Charlotte Street Foundation, Central Academy, Ces Cru, City Gym, City Year, Columbus Park Lofts, Community America, Datacore Marketing, Department Zero, Digital Milk Studios, Emergent Arts Hot Springs AR, Farmland Foods, Google Fiber, Goose Island Beer Company, Guilded Vine, Habit Mural Festival Tulsa OK, Harrah's Casino, Helix Architecture, Josey Records, JT Daniels Art, Kauffmann Foundation, Kansas City Star, Kansas City Design Week, Kansas City Master Piece Mural Fest, Kansas City Parks and Rec, Kansas City Royals Baseball Club, Kansas City TechWeek, KOJH radio,  Liquid 9, Lucid Arts, Mac Lethal, Mad Toy Designs, Maya Yoga, Middle of the Map Fest, MK12, MLB, Nashua Elementary, Northeast High School, Pabst Blue Ribbon, Paleterias Tropicana, Pathfinder Health Solutions, Plaza Academy, The Pitch, Populous, Qdoba Restaurants, Red Bull, The Roasterie, Schlitterbahn water parks, Ruby Jean's Juicery, Sandbox Interactive, Strange Music Inc, Team Construction, Tito's Vodka: Johns Big Deck, Tito's Vodka MiniBar, Trenchtown Culture Yard, Valorem, University of the South Sewanee TN, Wilma's
,
Zip Car
Open Spaces 2018
,
Kansas City Urban Youth Academy: Kansas City 1% for the Arts program
, Allied Arts Council of St. Joseph Missouri, Art in the Loop Foundation,
Alzheimer's Association of Kansas City
, Copaken Brooks, Harvesters community food network, Henderson Engineering,
Kansas City Public Library
, KCP&L, Missouri Bank,
Mattie Rhodes Art Center
2017: Populous, Black & Veatch, KCP&L, The Kansas Intellectual and Developmental Disabilities Research Center (KIDDRC)
2016: Henderson Engineering
2011: Johnson County Parks and Recreation
2015: Kansas City, Missouri 1% for the arts advisory panel 
2018: Inspiration Grant, ArtsKC
2018: Urban Hero Award, Kansas City Downtown Council                 
2015: Missouri Bank Art Billboards featured artist  
2015: Gift of Faith award, Reach Church, Prairie Village, Kansas
2010: Charlotte Street Foundation, Studio residency award 
2006: Master-Mind arts excellence award from The Pitch
2004: 30 under 30 local artist recognition feature in The Kansas City Star
Full CV and Press Kit upon request.

Email requests for public speaking, event appearances and art commissions here.